Collaborating for excellence in simulation education and research.

Collaborer pour l'excellence dans l'éducation et la recherche en simulation.
_______________________________________________________________________________________________________________________________________
Quote of the month:
"It's kind of fun to do the impossible." – Walt Disney
---
 

Upcoming Events

 

                               
---
CAN-Sim Annual General Meeting: 
Monday December 9, 2019: 1:00-2:30PM
Recording of the AGM will be posted in the Members Only Section
---
CAN-Sim Monthly Webinar Series
Coming Soon: 
CASN Canadian Simulation Nurse Educator Certification (CCSNE) – Dr. Jane Tyerman & Dr. Marian Luctkar-Flude
Presimulation Preparation and Prebriefing – Dr. Jane Tyerman & Dr. Marian Luctkar-Flude
Clinical Imagination – Dr. Laurie Peachey
Self-Regulated Learning in Simulation – Dr. Deborah Tregunno
*Dates to be determined
Let us know if there is a topic you would like to know more about or would like to be a feature presenter during our webinar series.  
---
Recorded Webinars
Previous recorded webinars can be found on the webinar series page or by clicking the following link –  Click here
Professional development for simulation educators: An integrative review.
Date: Tuesday, November 19th, 2019
Time: 1:00 – 2:00 pm   Eastern Time (US and Canada)
Presenters:
Dr. Jane Paige RN PhD CNE CHSE
Leslie Graham RN MN PhD ( c)  CNCC CHSE CCSNE
Dr. Barbara Sittner PhD, RN, APRN-CNS, ANEF
Webinar Description:
This presentation will provide the evidence for formal training efforts of educators who use simulation-based healthcare education. In particular, summarize the topics that comprise formal training, as well as evaluation methods of the educator.
---
CAN-SIM RESEARCH INTEREST GROUP MEETING (All are welcome)
When: Wed Jan 15, 2020, 7:00-8:00 PM EST
Join Zoom Meeting:
https://zoom.us/j/142369384
Meeting ID: 142 369 384
One tap mobile
+16475580588,,142369384# Canada
Dial by your location
+1 647 558 0588 Canada
+1 646 558 8656 US (New York)
+1 669 900 6833 US (San Jose)
Meeting ID: 142 369 384
Find your local number: https://zoom.us/u/abh1wkv974
_____________________________________________________________________________________________
CASN – Canadian Simulation Education Certification
The Simulation Certification Program fosters excellence in nursing education in Canada through faculty development in simulation-based pedagogy, practices, and technologies. The program prepares nurse educators to address a broad complement of practice learning needs and the full range of simulation typologies.
PROGRAM DESCRIPTION
The Simulation Certification Program encompasses four modules, each offered once per calendar year. Although the given sequence is recommended, modules may be taken in any order and over the course of two years. Every module culminates in a submitted assignment and a multiple-choice exam. Upon successful completion of all four modules, participants will be prepared to write the national certification exam to achieve the Canadian Certified Simulation Nurse Educator (CCSNE) designation.
Audience: Nurse educators using simulation in nursing education programs
Delivery: Online (Adobe Connect & Moodle)
Timeframe: Modules are 7-8 weeks
MODULES
Module 1: Theory and Design – next offering in January 2020  Click here to register
Module 2: Facilitation – next offering in spring 2020
Module 3: Interprofessional Education – next offering in summer 2020
Module 4: Evaluation and Scholarship – next offering in fall  2020
---
Upcoming Conferences
IMSH 2020: San Diego, CA
---
THE CASN BIENNIAL CANADIAN NURSING EDUCATION CONFERENCE 2020 – SAVE THE DATE!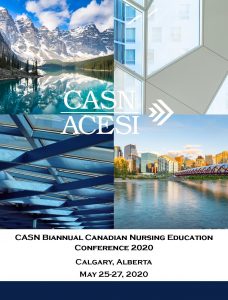 Save the date! The CASN Biennial Canadian Nursing Education Conference 2020 will take place as follows:Dates: May 25 to 27, 2020City: Calgary, Alberta, Canada.Hotel Location: The Westin Calgary – 320 4th Avenue SW

Book your hotel reservation before April 24, 2020, 5 p.m. Calgary time to secure the special CASN Conference 2020 guestroom rate ($219.00 for traditional Westin Room) by clicking here: https://www.marriott.com/event-reservations/reservation-link.mi?id=1564676716076&key=GRP&app=resvlink

For additional reservations assistance, please call 1-888-627-8417 and mention the "Canadian Association of Schools of Nursing (CASN)" guestroom block.

Marriott Bonvoy loyalty members receive special perks when staying at The Westin Calgary. Consider becoming a member here: https://www.marriott.com/loyalty.mi
Abstract Submission and Registration Details

You are invited to submit an abstract for the Canadian Nursing Education Conference. CASN will be accepting the following types of abstract submissions:
Research
Work-in-Progress or Proposals for Future Research
On-going projects
Panel/Symposia
Moderated Round-Table Presentations of PhD students with thesis in progress
Conference Subthemes
Ethical issues in nursing education
Nursing knowledge within the curriculum
Simulation/digital practices
Interprofessional/intraprofessional
Assessments and evaluation
Graduate education
Abstracts must be submitted online by Monday, January 13, 2020.
---
Proudly Sponsored By