Collaborating for excellence in simulation education and research.
Collaborer pour l'excellence dans l'éducation et la recherche en simulation.
____________________________________________________________________________________________
Follow us on Twitter: @CANSim3
Friend us on Facebook: CAN-Sim Simulation
Connect with us on Linked In:  linkedin.com/in/can-sim-458602164
---
Quote of the month:
"Education is the most powerful weapon which you can use to change the world." Nelson Mandela
---
Upcoming Events  
---
DECEMBER WORKSHOP:
CAN-SIM ONLINE VIRTUAL SIMULATION GAME DESIGN WORKSHOP 
This interactive four-day virtual simulation game design workshop is ideal for nurse educators and health professionals. Participants will be guided through the process of writing learning outcomes, creating assessment rubrics, developing decision point maps, scriptwriting, filming, and game assembly. Participants will create a virtual simulation game over the course of the week. The workshop will be delivered online via Zoom.
*Please note that all workshop times are in Eastern Standard Time. 
Day 1: Tues Dec 7, 2021, 9AM to 3PM
Day 2: Wed Dec 8, 2021, 9AM to 3PM
Day 3: Fri Dec 10, 2021, 9AM to 3PM
Day 4: Thurs Dec 16, 2021, 1PM to 3PM
REGISTER NOW AT: 
https://can-sim.member365.ca/public/event/details/26b21419f99202fac2e1eeafeca90b3b8148d09a/1
---
JOIN US FOR THE CAN-SIM ANNUAL GENERAL MEETING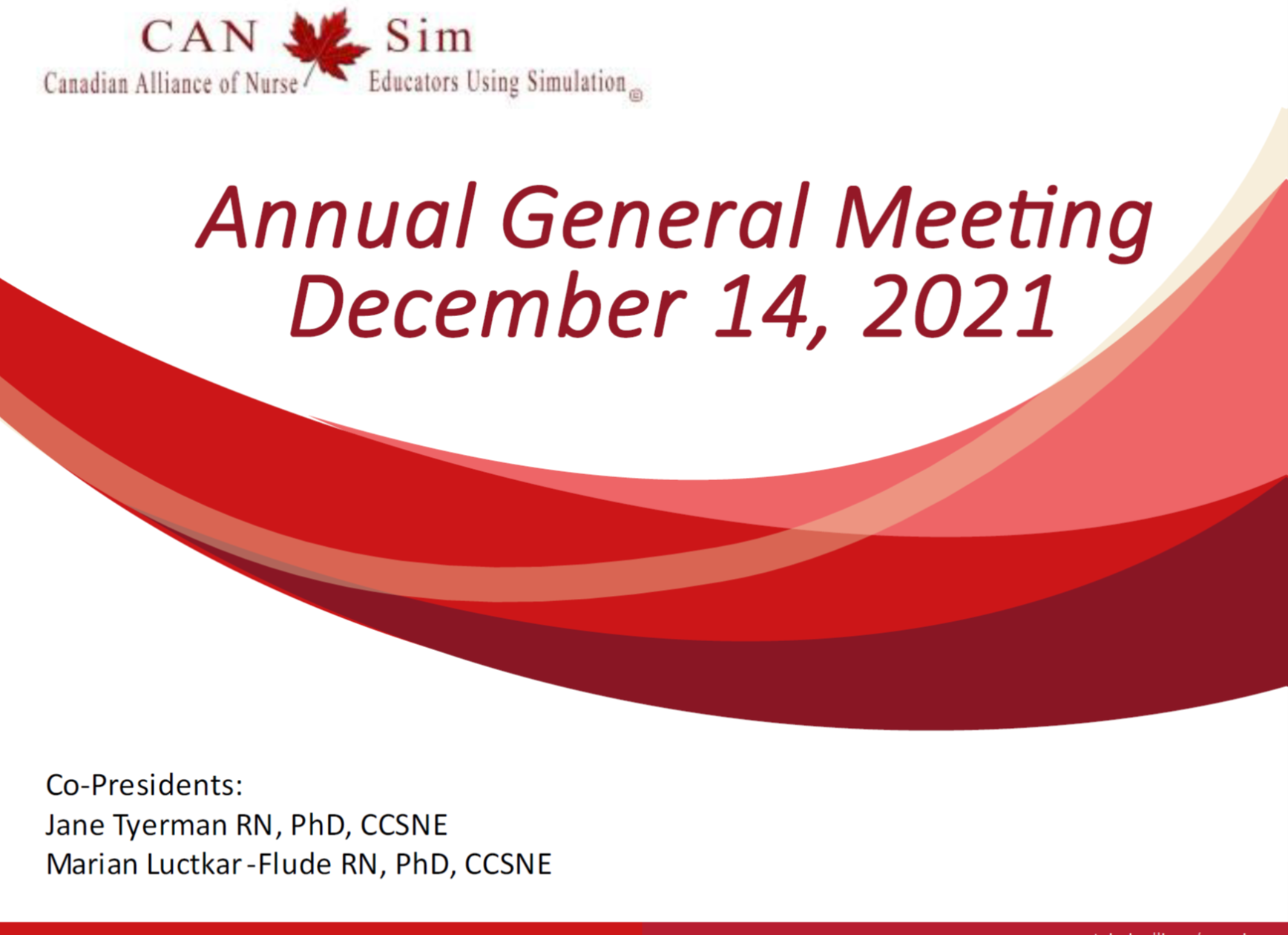 Tuesday December 14, 2021: 7:30-8:30PM
REGISTER NOW AT: https://can-sim.member365.ca/public/event/details/29b47ff1654b39dd0cb09b282ffbde068ba9466b/1
---
CAN-SIM RESEARCH INTEREST GROUP MEETING
Open to FULL members  (contributing and paid members)
Date: TBA
Time: 7:30-9:00 PM Eastern Time (Toronto)
REGISTER NOW AT: 
---
NEW VIRTUAL SIMULATION GAMES FOR CAN-SIM FULL MEMBERS (CONTRIBUTING and PAID MEMBERS)
COMMUNICATION SERIES
Communication in a Community Health Clinic
FACULTY DEVELOPMENT SERIES:
Virtual Debriefing
Failing Student
Conflict Resolution for the Clinical Instructor
MEDICATION ADMINISTRATION SERIES
Nonparenteral Medication Administration
Parenteral Medication Administration
NP TELEHEALTH SERIES
Adolescent Mental Health Consultation
HPV Vaccine Hesitancy Consultation
NEW OPEN-ACCESS VIRTUAL SIMULATION GAMES* 
COVID-19 SERIES**
     Available at http://www.can-sim.ca/hc 
Running a Code (Cardiac Arrest)
Fluid Volume Deficit in a Geriatric Patient
Respiratory Deterioration
Care of the Ventilated Patient
Multi Organ Dysfunction Syndrome (MODS)
*Website and VSGs also available in French
**Created in collaboration with the Canadian Association of Schools of Nursing (CASN) & funded by Health Canada
SEXUAL ORIENTATION AND GENDER IDENTITY (SOGI) NURSING SERIES*
     Available at: www.soginursing.ca 
*VSGs available in English and French
---
NEW: CAN-Sim Faculty Development Resources 
Facilitator Guide to Virtual Debriefing  
Synchronous Virtual Debriefing Virtual Simulation Game for Facilitators 
__________________________________________________________________________________________________________________
NEW: 

Open Access

COVID-19
Virtual Simulation Game and Educational Resources
Access game and resources here: 
Learning Management System Course with learning outcomes, reflective questions, and resources
Virtual Simulation Game on COVID-19 Assessment, PPE selection, donning and doffing
---
 

Upcoming Events            

 
---
CAN-Sim Monthly Webinar Series
---
CAN-Sim Webinars Coming Soon: 
CASN Canadian Simulation Nurse Educator Certification (CCSNE) – Dr. Marian Luctkar-Flude,  Dr Jane Tyerman
Presimulation Preparation and Prebriefing – Dr. Jane Tyerman, Dr. Marian Luctkar-Flude
Clinical Imagination – Dr. Laurie Peachey
Self-Regulated Learning in Simulation – Dr. Deborah Tregunno
*Dates to be determined
---
Recorded Webinars
Recordings of previous webinars can be found on the webinar series page
or by clicking the following link –  Click here
Innovation to Meet Student Needs Amidst a Pandemic: Collaborating with CAN-Sim – Kerry-Ann Dompierre and Valda Duke
Developing Family Visit Simulations to Engage First Year Nursing Students at Cambrian College, Sudbury, Ontario – Laura Killam, Marian Luctkar-Flude
Sexual Orientation and Gender Identity Nursing Education – Erin Ziegler, Benjamin Carroll
Why is Debriefing so Important and How Do I Use it to Foster Learning? – Kristina Dreifuerst
CAN-Sim Virtual Simulation Game Course Launch – Marian Luctkar-Flude, Jane Tyerman
Professional Development for Simulation Educators – Leslie Graham, Jane Paige, Barbara Sittner
Building on the Basics and Best Practices for Debriefing – Elizabeth Horsley
Establishing Psychological Safety In Simulation – Nicole Harder, Sufia Turner
Preparing for the CHSE Exam – Andrew Spain
Use of Virtual Simulation Games (VSGs) in Nursing – Jane Tyerman, Marian Luctkar-Flude
Let us know if there is a topic you would like to know more about or would like to be a feature presenter during our webinar series.  
---
---
CASN – Canadian Simulation Education Certification
The Simulation Certification Program fosters excellence in nursing education in Canada through faculty development in simulation-based pedagogy, practices, and technologies. The program prepares nurse educators to address a broad complement of practice learning needs and the full range of simulation typologies.
PROGRAM DESCRIPTION
The Simulation Certification Program encompasses four modules, each offered once per calendar year. Although the given sequence is recommended, modules may be taken in any order and over the course of two years. Every module culminates in a submitted assignment and a multiple-choice exam. Upon successful completion of all four modules, participants will be prepared to write the national certification exam to achieve the Canadian Certified Simulation Nurse Educator (CCSNE) designation.
Audience: Nurse educators using simulation in nursing education programs
Delivery: Online (Adobe Connect & Moodle)
Timeframe: Modules are 7-8 weeks
MODULES
Module 1: Theory and Design – next offering in January 2022  
Module 2: Facilitation – next offering in spring 2022
Module 3: Interprofessional Education – next offering in summer 2022
Module 4: Evaluation and Scholarship – next offering in fall  2021
---
Proudly Sponsored By